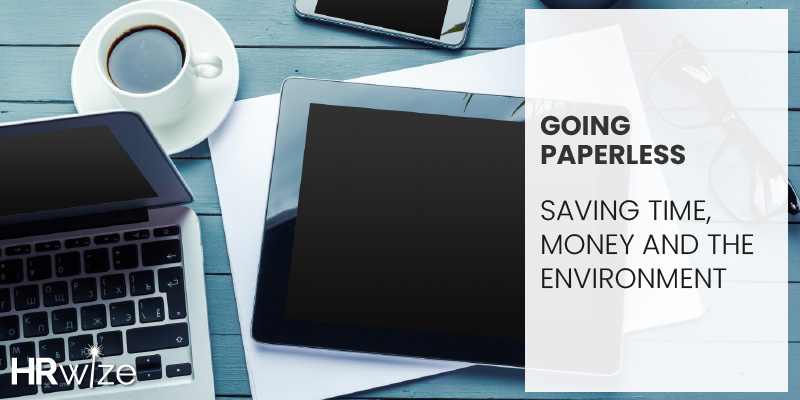 Long gone are the days when company memos and reports filled the plastic inbox on your desk at the office. The digital age has brought us modern convenience in the workplace, with messages and documents now being sent with the click of a button. The paperless workplace has quickly become a goal for many organizations. Companies are putting more thought into how corporate culture aligns with their environmental impact.
The benefits of transitioning to a paperless workplace can be especially noticeable in Human Resources (HR). It's the nucleus of business, housing mountains of information for and about the people who make up that organization. An HRIS (or Human Resources Information System) is one way to achieve those benefits.
Compliance and corporate culture
Eliminating paper is a straightforward way to meet environmental compliance regulations and an organization's own environmental policies. Lowering your carbon footprint by being a paperless workplace makes a clear statement to employees and customers, that you care about the community and the planet. It's also a step forward in ensuring your organization's corporate culture aligns with the concerns of those most invested in it.
Increased efficiency
An HRIS can provide many features that support a paperless workplace. It makes paper time sheets and vacation requests, physical copies of documents or signatures, and printed resumes and employee files obsolete. The eye-watering amount of paperwork produced and stored by HR can be converted into digital files and stored centrally, in the cloud.
This means not having to dig through filing cabinets to find documents, always having information at your fingertips and more time to spend on strategic work. It also means less paper used, less clutter, and less waste.
Security and accountability
Losing or forgetting something as important as a time sheet or an employee's personal information can be highly detrimental to business operations. Leaving an employee's file open is easily done, but a security risk if it contains sensitive information.
A paperless workplace not only eliminates this concern but increases security and accountability by providing records of who accessed files and when. Automatic log out functions and data backups provide data protection and eliminate the need for countless copies of vital documents.
Save money while saving the planet
Aside from the obvious savings on supplies and employee hours, moving to an HRIS allows for better expense management. Receipts can be uploaded to the cloud and linked with reports and timesheets. Comprehensive reports on spending can be created to ensure more accurate financial forecasting and planning.
Being a paperless workplace means less wasted paper, energy, and money. It is also an impactful step towards regulating environmental concerns, be they culture or compliance related. For more benefits or assistance in going paperless, reach out to one of our Human Resources and HRIS specialists at info@hrwize.com.