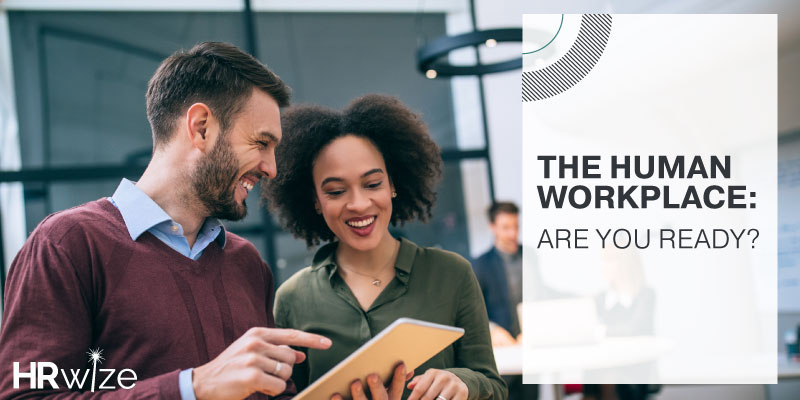 There's been a big push for and a lot of attention given to the Human Workplace in the past few years. It's a topic that deserves that attention. A perfect storm of factors, such as our ability to stay connected, the capabilities of modern technology, and the wants and needs of those making up the majority of the workforce have changed.
It's also a topic that we won't be able to completely cover in one blog. Although this article will cover the basics of what the Human Workplace movement is and what its effects have been; we'll be following it up with some insight on conscious leadership, an in-depth eBook on the Human Workplace, and practical tips on preparing your organization.
That being said, what exactly is the Human Workplace?
The Human Workplace
When we talk about the Human Workplace, or a human centric work environment, what do we mean? Namely, a positive workplace with the goal of achieving organizational growth through employee development and support. This is done in several key ways:
Empathy: Connecting with employees' and looking after their emotional and physical wellbeing.
Engagement: Giving more frequent and meaningful feedback and interaction.
Elevation: Providing opportunities for employees to learn and grow.
Think about your work or volunteer history. Have you ever had a job or volunteer opportunity you really enjoyed? Where you cared about the organization and the people involved?
Think about what constitutes a good day at the office. What influences that? What would enable you to have more of those days?
When you think again about these questions, were those 3 Human Workplace factors involved? Employee and organizational wellbeing are completely interwoven. The idea behind a human focused workplace is that by encouraging employee success you are enabling the success of your organization or business.
Breaking with Tradition
Some people may bristle at the notion of a more people friendly work environment, but if you ignore your gut reaction to the buzzwords, the entire movement is based on practicalities. Employers often bemoan employees who come in, 'do their time' and then go home. The big news is, employees hate that too. No one wants to be miserable at their job, hence the Human Workplace movement.
As we discussed at the beginning of this blog, there are a lot of factors responsible for this shift. Including, that the population making up the largest part of the workforce is starting to take the work life balance idea and run with it. However, regardless of its millennial influence, it's a movement that's providing cross-generational benefits.
How is the Human Workplace changing organizational culture?
A resurgence in demand for mentorship
More flexibility in working hours and working remotely
Leaders who are more self-aware
Organizational growth through personal growth opportunities
Tech savvy employees with a need for more advanced technical solutions in the workplace
Organizations that are more connected and transparent

Are corporately conscious (think environmentally aware, give back to their community, etc.)
Know, respect, and encourage their employees
Are more open with information

A focus on inclusivity and awareness
The above list only touches on the changes that the Human Workplace is producing. One way to better understand the movement is perhaps by thinking of it as an alternate way to deal with the increase in pressure and less desirable aspects of today's work environment.
If the traditional 9 to 5 job is asking more of individuals and offering a less certain future, how can an organization thrive? How can they keep employees invested and attract new talent? The answer is meeting employees on a personal level with the Human Workplace.
Does this topic pique your interest? Join us at Tomorrow's Workplace, Today to dive deeper into the Human Workplace movement and help build a world where standard practice is ethical, diverse and sustainable workplaces.