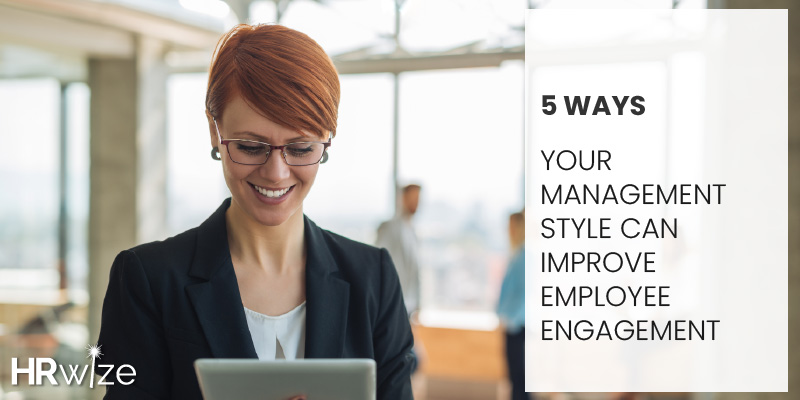 Consequences of different management styles have been the topic of business case studies for years. But the reality is: only extreme behaviours of either micro or macro-management styles are truly harmful to a business. In fact, the key to employee engagement within a successful organization, amongst other things, is a balanced combination of both management styles with a well-defined vision. Through the use of HR tools, management can more easily balance their micro and macro tendencies using features such as more frequent performance updates and goal setting.
Often times, micro-management is perceived as a dysfunctional management style. Micro-managers are frequently portrayed as being far too detail-oriented. In extreme cases, micro-managers are depicted as non-trusting individuals who shift the blame of negative results as deriving from their employees' performance. They are also characterized as managers who take the credit deserved by their employees. However, in non-extreme cases, such as with Michael Eisner and Steve Jobs' successful management styles, micro-management can be quite beneficial when combined with the right tools, vision and macro-management.
Using the inspiration provided by the organization's vision, a manager is capable of establishing broad and long-term objectives which are in line with the organizations' goals. A successful macro-manager will build a team of achievers who feel that their involvement is valued and trusted. A sense of flat hierarchy where same levelness is created builds value and equality within a team of innovators.
Employee engagement will shine in macro-management, provided the 5 following behaviours are applied:
Educate (vision)
Vision is one of business' most crucial focal points. When a vision is spread throughout an organization, it pushes both the leaders and employees toward the same goals – together rather than separately. Visions can successfully turn a corporate hierarchy into a harmonious and well-organized group of equal contributors working towards a common objective. A vision is relatively long-term and can be used in two different ways: inspiration and prediction. Those two aspects are what balance micro and macro management within one coherent management style.
Set SMART objectives
Though the vision establishes a long-term goal, the need for SMART objectives remains just as important. SMART objectives must be: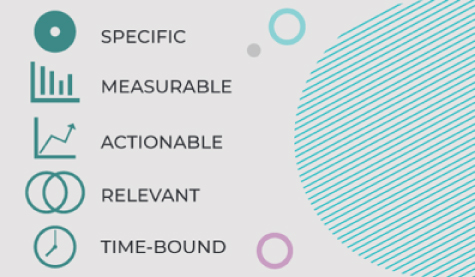 Using an HRIS with a performance management module will allow your managers and employees to create those objectives together. This creates a feeling of involvement for the employee in the decision-making process and provides a certain level of control over the success of their own career path. In addition, setting SMART objectives allows you (the macro-manager) to know, without having to repeatedly ask, what the employee is working on.
Trust
Wayne Gretzky once said, "You'll always miss 100% of the shots you don't take". Fully trusting your employees might seem like a big risk, but truth be told, employees thrive in trusting environments. Are your employees allowed to use their decision-making skills when dealing with problematic situations or client issues? Do they always require your consent for something that isn't within their power to correct? Frustration can build up when knowledgeable and qualified employees are powerless to take immediate action. Think about it – if they can save a client from having to wait for a higher-level manager to take action, it's a win-win! Trusting your employees will not only engage them in their regular responsibilities but incite them to use that power you've entrusted in them to become more creative, innovative and productive.
Open the communication window
Ok, so you've implemented behaviours 1, 2 and 3. You are on your way to building a strong management style, but you certainly should not stop there. In fact, if you do, you will suffer from dysfunctional macro-management. Once you've aligned long-term goals, smart objectives and entrusted your employees, it is important that you ensure that the communication window is wide open. Horror stories about macro-management will usually include an issue which was caught far too deep into the root of the problem. Don't micro-manage but do stay involved. Check-in once in a while and let your employees know that you are available for any questions they might have. Let them know that you are interested in their projects and make them feel comfortable to come to you with issues you might solve innovatively together.
Mentor
Great leaders build great leaders. Now that your employees feel trusted, equal and empowered, provide them with the tools and knowledge required to achieve their SMART objectives and career goals:
             1. Participate in brainstorming sessions and feed your employees with creative ideas they would not have otherwise thought of.
             2. Send your employees interesting articles which will keep them (and in turn, your organization as a whole) ahead of the game.
             3. Hold participative lunch and learns where knowledge transfer is promoted.
As a leader, whether applying micro- or macro-management styles or even if you think you've achieved the perfect balance of both, remember to always allow yourself to learn from your employees. Yours and your employees' potential for growth is truly unlimited.